Professional Bartending School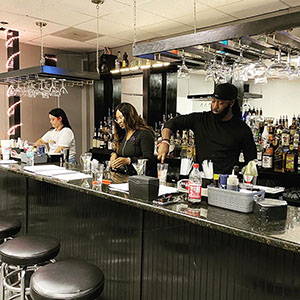 The Professional Bartending School opened in Nashville in 1992, and has been under the direction of David Edwards since then. Due to the central location of our school, we are only a 15 to 20 minute drive from most areas of Nashville.
Professional Bartending School of Nashville is licensed by the Tennessee Higher Education Commission. We are a state-licensed trade school and have trained over 15,000 people, of all ages and backgrounds, for a rewarding career in bartending.
As a state-licensed trade school, we operate in a professional and ethical manner. All of our websites meet the licensing requirements for our school. Others have come and gone but the Professional Bartending School of Nashville has continued to be the leader in the bartending industry locally and nationwide for over 30 years.
Our Nashville bartending school staff has many years experience bartending in some of Nashville's best establishments. Our Nashville bartender school has placed graduates throughout Nashville and the surrounding areas in great jobs.
Our local campus and students have been featured in many local papers and TV stations and has been featured on Channel 2 and Channel 4 News. Our graduates have also appeared on the CMT Network making drinks on the CMT Top 20 countdown and have appeared on the reality show "The Ultimate Coyote Ugly Search" which highlights bartending and the art of flair bartending. One of the Nashville graduates won the first season!
Job Placement
For 30 years, The Nashville Bartending Schools has been developing relationships with Nashville's HOTTEST bars, Restaurants, Hotels, and Venues. We assist you in finding a great job bartending.
Why Attend Our Nashville Bartender School?
We first opened our doors in 1992. We have placed thousands of graduates in great bartending jobs since opening. The Professional Bartending School of Nashville has never had any complaints with the Better Business Bureau.
We have flexible bartending class times in Nashville to fit anyone's schedule. We have morning, evening, and Saturday classes, as well as a flex schedule where students can attend at their own pace.
PBS has a quality job placement assistance program. Our job is not finished until we help place our graduates in great bartending job. Our full time job placement director will work with you until you find a job that's perfect for you. The Nashville campus has always had more job openings than graduates.
With major companies downsizing and good jobs becoming harder to find, bartending is the perfect career. Bars are always busy. People enjoy the bar atmosphere when they are celebrating the good times, or to lift their spirits during the bad times. With this in mind, bartending has been referred to as a "recession-proof" career.
Pay is always a consideration when choosing a career. Bartenders are paid an hourly pay plus tips. The pay is usually $8.00 to $15.00 an hour, plus tips. Tips typically average $15.00 to $40.00 an hour depending on the establishment.
While most schools cost thousands of dollars to attend and can take months to complete, Professional Bartending School is only two weeks in length and most of our graduates earn their tuition back in about one week of bartending.
The Nashville campus has been named PBSA's "School of the Year" 13 different years. Our instructors have been twice named PBSA's "Instructor of the Year". There is a reason why we are the No. 1 school in the largest chain of bartending schools in the country. We believe in doing two things at the PBS of Nashville campus. We work with every student until they graduate and then we work with each graduate until they find a job. This is why we are successful and that is why we are the best bartending school for you.
Take the time to check out all of our pages and then TAKE THE NEXT STEP! Request more information on our Nashville bartending school or call us today and we will show you how we can help you get started in your new bartending career!
Our Nashville Bartending School Serves These Areas and More!
Antioch
Bethpage
Bell Meade
Bellevue
Bowling Green
Brentwood
Carthage
Clarksville
Columbia
Cookeville
Dickson
Donelson
Franklin
Gallatin
Green Hills

Hermitage

Hendersonville

La Vergne

Lebanon

Mr. Juliet

Nolensville

Paducah

Portland

Smyrna

Spring Hill

Springfield

Thompson Station

White House

Watertown

Woodbury
The Professional Bartending School of Nashville is authorized for operation as a postsecondary educational institution by the Tennessee Higher Education Commission. In order to view detailed job placement and completion information on the programs offered by the Professional Bartending School of Nashville, please visit the Tennessee Higher Education Commission and click on the "Authorized Institutions Data button".